LEISURE: Blowers welcomes "my dear old things" at the Warehouse Theatre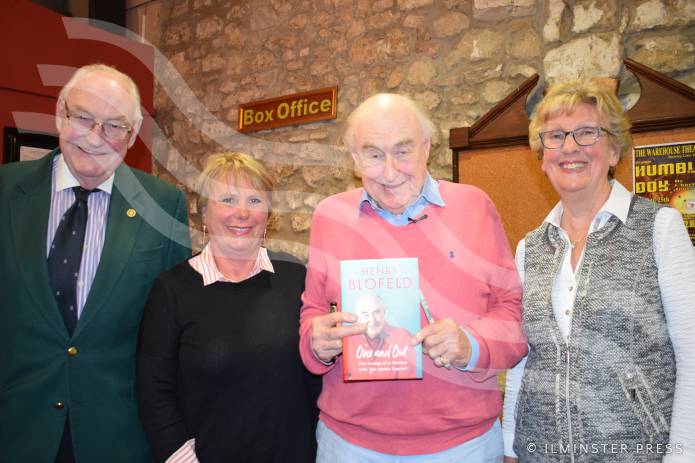 LEGENDARY cricket commentator Henry Blofeld delighted a packed audience at the Warehouse Theatre in Ilminster with an evening of amusing anecdotes and reminisces from his life.
Blofeld, 78, known as Blowers by his many fans, retired as a BBC Test Match Special radio commentator in September 2017 – bringing to a close a 45-year career where his Old Etonian accent, vocabulary and artistry painted the cricketing scene perfectly for his listeners.
The evening was organised by Julie Fowler and sponsored by Jane Morgan and it proved a wonderful night of cricket nostalgia for fans.
Proceeds from the evening will go towards Ilminster Cricket Club's ongoing refurbishment project for the Tony Rice Bar, previously known as The Shed, on the Ilminster Recreation Ground. (Turn to Page 34 for more news).
Ilminster CC president Stuart Shepherd presented Blofeld with a gift at the end of the evening to thank him for his entertaining trip down memory lane.
Blofeld had earlier reminisced about his time in the media with the likes of other legends of the commentary box such as John Arlott and Brian Johnston.
The show included memorable commentating moments from down the years – most notably the famous time when Brian Johnston and Jonathan Agnew were left in fits of giggles over a "leg over" remark.
And it closed with Blofeld's final time in the commentary box during a Test match when England played West Indies at Lord's on September 9, 2017.
Blofeld spoke about it with almost a tear in his eye – the audience was left in no doubt how much he had enjoyed his work on Test Match Special.
Although some may think it will never be the same – Blofeld has every confidence that with the likes of Agnew, Graeme Swann and Phil Tufnell in the commentary box Test Match Special is in safe hands for many years to come.
PHOTO - TOP: Henry Blofeld (second right) along with (from left) Ilminster Cricket Club president Stuart Shepherd, event sponsor Jane Morgan and event organiser Julie Fowler. Photo: Christine Jones.
Tags:
Leisure.