CRICKET: Tony Rice Bar is given an official opening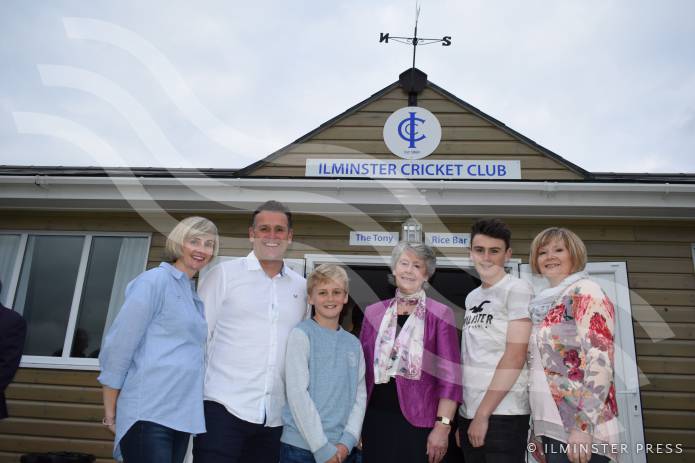 A MAGNIFICENT refurbishment of Ilminster Cricket Club's social headquarters was given an official opening and really did leave visitors bowled over.
The Tony Rice Bar, previously known as The Shed, has been given a major overhaul which has seen a fabulous all-round team effort come to fruition in the Ilminster Recreation Ground.
Club chairman Paul Knight thanked everyone for their efforts in turning the building, which was long overdue a makeover, into a superb facility for players, supports and the Ilminster community.
It was in the summer of 2016 when work started to refurbish the building with John Pallister leading a working party which became known as Dad's Army.
Mr Knight said that people had previously dubbed the building as an "eyesore."
But he added: "I don't see an eyesore now!"
Mr Knight said: "John Pallister can be very proud of what he and everyone else has achieved – it's been a fantastic effort from start to finish."
Main club sponsors Harper Dolman & West were thanked for their support along with everyone else who had given their financial backing to the refurbishment project. He also thanked St Austell Brewery, the Gooch Trust and Ilminster Town Council for its support.
"Everybody has worked their socks off to make the club what it is and that includes those behind the scenes, the fetchers and carriers and the tidy-uppers," added the chairman.
He also remembered some long-term supporters of the club who were no longer with us – including Tony Rice, Ali Taylor, Keith Harper, Billy Parsons and Mr Knight's own father-in-law, Barrie Brunt, who gave him the motivation to keep going as chairman.
"I'm sure they will be looking down with pride," he said. "We hope we have done them proud."
Tony Rice's widow, Ann, was given the job of cutting the ribbon to declare the newly-refurbished social facility open.
"It's a huge honour," she said. "Tony would be so proud. He loved this club so much – he will be watching from above.
"I would like to wish Ilminster Cricket Club every success for the future."
Members of the Rice family accompanied Ann at the opening including her son, Craig, the club's vice-chairman.
Also present at the opening were club president Stuart Shepherd, the Mayor of Ilminster, Cllr Val Keitch, and the Deputy Mayor, Cllr Julie Fowler.
PHOTO - TOP: Ann Rice (centre) with members of her family outside the refurbished Tony Rice Bar on Ilminster Recreation Ground. Photo: Christine Jones.
Tags:
Sport.