CLUBS AND SOCIETIES: Lights sparkling with Ilminster Rotary Club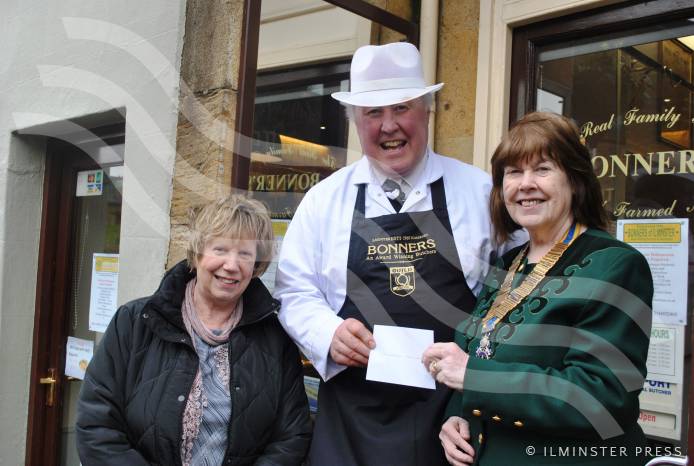 CHAIRMAN of the Ilminster Christmas Lights Committee has been presented with a £186 donation – thanks to local songsters!
The money was raised by members of Ilminster Rotary Club going round local pubs in the town providing some Carol singing for festive tipplers.
Brenda Lake, of Ilminster Rotary Club, said: "We had a really good time for a few hours with 18 of us singing our way round the town and having a warm reception everywhere we visited."
Christmas lights committee chairman Clinton Bonner thanked the Rotarians for their "fantastic donation."
Cheques for £552 and £482 were also presented by the Rotarians to the Minster Church and the Warehouse Theatre in Ilminster respectively.
These funds were raised during a charity concert held on February 23, 2018, at the Minster featuring performances from Serenade and The Belles local choirs, Barrington Ukelele Band, young soloist George Souster and Huw Morgan.
PHOTO – TOP: Well-known Clinton Bonner, from Bonner's Butchers, is pictured receiving the cheque for the Ilminster Christmas Lights from Ilminster Rotary Club president Veronica Horman (right) and Rotarian Brenda Lake. Photo: Steve Sowden.
Tags:
Leisure.