SCHOOL NEWS: Food heaven with Swanmead's culinary whizz kids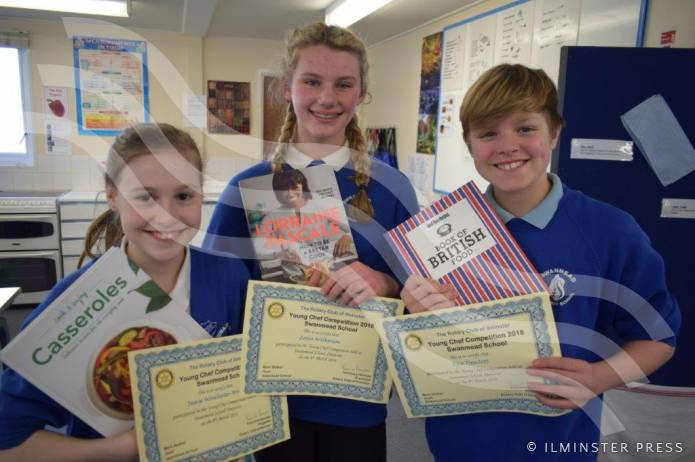 BUDDING Jamie Oliver's and Nigella Lawson's served up plates of scrummy "food glorious food" in the annual Ilminster Rotary Club's Young Chef Competition.
Students at Swanmead School in Ilminster expertly created a mouth-watering succession of culinary delights which left judges and visitors eagerly awaiting the chance to taste the array of tasty treats.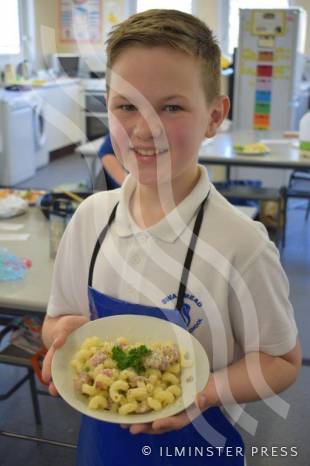 Two competitions were held for Year Seven and Year Eight students and they did not disappoint the judging panel of Dillington House chef Loraine Rose and Rotary Club representatives Daphne Page and Gill Walker.
PHOTO - TOP: Year Eight competition winner Loren Wilkinson (centre) with runner-up Dan Tremlett and third-placed Evie Lee.
PHOTO - RIGHT: Connor Swain who was highly commended in the Year Seven competition.
"The students were absolutely excellent," said Loraine. "They produced some fantastic meals and should all be really proud of what they achieved."
Swanmead headteacher Mark Walker, himself a wannabe Gordon Ramsay or Keith Floyd of the kitchen, added: "They are all winners as they all put themselves forward for this competition and have done really well. I'm very proud of them."
In the Year Seven competition James Endersby produced spaghetti Bolognese; Caitlin Parsons served up chicken in leek, bacon and cheese sauce with new Potatoes and garden peas, while Heulwen Simpson cooked spinach, bacon and ricotta tortellini in a tomato and cheese sauce.
Phoebe Lomas gave the judges some Parma ham and stilton chicken parcels with crispy roast potatoes; Annie Ashdown dished up spiralized vegetable pad Thai; Leyla Tunc delighted with veggie burger with sweet potato fries, salad and homemade salsa; and Jess Ward served Turkey burger with fresh spinach and also sweet potato fries.
But there had to be winners.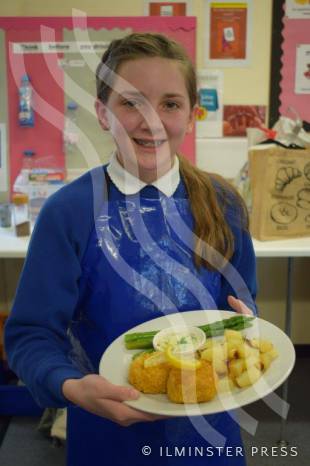 Highly commended went to Connor Swain for his dish of ziti made with traditional Italian sausage meat and cheeses.
Drew White was named third with her creation of black bean burrito served with salad and guacamole, runner-up was Nancy Pattison with a delightful roasted vegetable lasagne, and the winner was Hannah Horner with a fantastic hunter's chicken with mashed potato and seasonal vegetables.
PHOTO - RIGHT: Highly commended in the Year Eight competition was Holly Lewis.
Nine students took part in the Year Eight competition and the judges had an even more difficult to choice to make while the array of official "tasters" had their taste buds sizzling.
Holly Lewis was highly commended with her homemade fishcakes with zingy lemon Greek potatoes, parsley sauce and asparagus.
Third-place was Evie Lee with her mini toad in the hole with herby mash and green beans, while Dan Tremlett, for the second year running, was named runner-up with an amazing pan fried seabass with pea and mint risotto served with seasonal greens in a basil butter.
And the winner was announced as Loren Wilkinson for her cheesy butter mushrooms stuffed in chicken in parmesan sauce and served with saute potatoes.
Also delighting the judges and tasters were Jess Dobbs with Mexican burritos with rainbow salad and guacamole; last year's winner Amelia Francis with fillet steak served in a Roquefort sauce with roasted vegetables and asparagus; and Charlotte Prichard with home cooked hamburger, potato wedges, side salad and coleslaw.
While along with runner-up Dan – flying the flag for the lads were Jamie Winchester-Hine with noodle carbonara and Liam Small with juicy meatballs served with crispy garlic bread.
Ilminster Rotary Club president Veronica Horman congratulated all the competitors on producing such a fantastic competition.
Year Seven and Year Eight competitions winners Hannah Horner and Loren Wilkinson will be invited to go and cook in the professional Dillington House kitchen as part of their prize and they will be joined by Dan Tremlett after coming runner-up two years in succession.
More photos can be found on these links:
Photo Gallery Part 1 – Year Seven competition Pt 1: http://www.ilminsterpress.co.uk/blog/2018/03/12/young-chef-part-1-march-8-2018/ .
Photo Gallery Part 2 – Year Seven competition Pt 2: http://www.ilminsterpress.co.uk/blog/2018/03/12/young-chef-part-2-march-8-2018/ .
Photo Gallery Part 3 – Year Seven Competition Pt 3: http://www.ilminsterpress.co.uk/blog/2018/03/12/young-chef-part-3-march-8-2018/ .
Photo Gallery Part 4 – Year Seven Competition Pt 4: http://www.ilminsterpress.co.uk/blog/2018/03/12/young-chef-part-4-march-8-2018/ .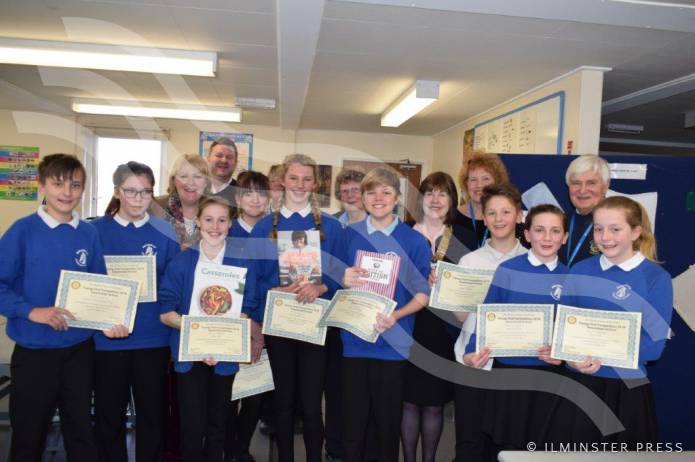 PHOTO - ABOVE: All the Year Eight competitors with judges, members of Ilminster Rotary Club and headteacher Mark Walker.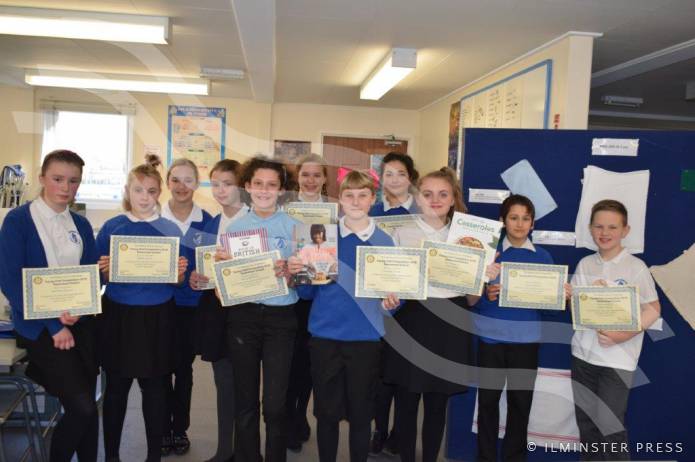 PHOTO - ABOVE: Year Seven competitors with winner Hannah Horner (front centre) with second-placed Nancy Pattison (centre left) and third-placed Drew White (centre right).
Tags:
Schools / Colleges.