ILMINSTER NEWS: January edition of Ilminster Press – dedicated to the memory of much-loved Ilminster woman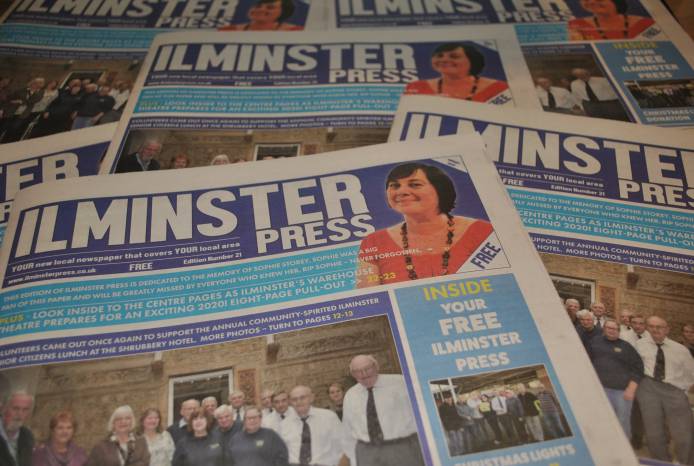 THE January edition of the free Ilminster Press community newspaper is out now and is dedicated to the memory of well-known local woman Sophie Storey.
The decision to make that gesture was made by Ilminster Press editor Steve Sowden after getting the blessing from Sophie's family via her work place at the Tesco store in town.
Sophie died on Boxing Day at the age of just 50 and her death shocked the local community; The Minster in Ilminster was full to capacity on Monday (January 20) for her funeral service.
"It is sad to start the year on a sombre note," wrote Steve in this month's Ilminster Press. "Like many people, I was deeply shocked and saddened when I heard of the untimely death of Sophie over the Christmas period.
"I had known Sophie for a number of years and she was Ilminster through and through and her sense of community spirit, fun and always up for a chat and laugh shone brightly every time I saw her.
"My deepest condolences go to Sophie's family.
"Sophie always said to me how much she liked the Ilminster Press as it was "all about Ilminster" and so I think it is only fitting that I dedicate this edition of the paper to her memory."
Copies of the monthly Ilminster Press are available for people to pick-up from outlets in and around Ilminster including the Tesco store in Shudrick Lane, the Ilminster Co-Op store, Cottage Flowers, The Minster, Ilminster Arts Centre, Shrubbery Hotel, Tesco Garage, the Spar Garage, The Stonemasons, Horton Post Office, Monk's Yard and Jordan's Courtyard at Horton Cross, Seavington Community Shop, Dillington House and the Trading Post Farm Shop at Lopen.
Tags:
News.