ILMINSTER NEWS: Thank you for your fantastic support as Ilminster Press reaches second anniversary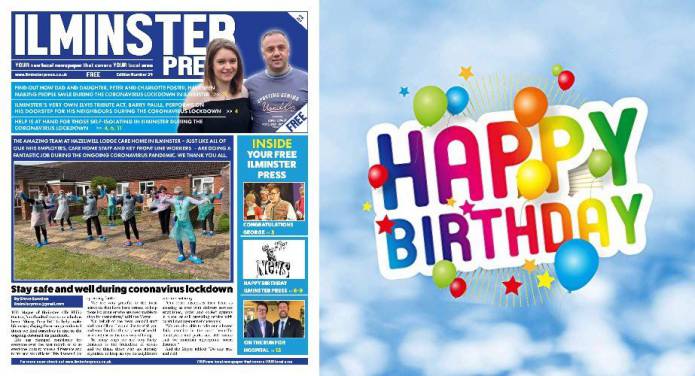 THE April 2020 edition of the Ilminster Press community newspaper is Edition Number 24 meaning that this represents the publication's second birthday.
It only seems like yesterday that Edition Number 1 was being produced and being distributed among various outlets in and around the Ilminster area.
Editor and owner, Steve Sowden, said: "Although I had been thinking about the idea for some time it was around two years ago when I got the "lightbulb moment" to actively pursue the project when I was asked to help promote the 2018 Ilminster Literary Festival.
"Little did I know back then what I was starting – but I have to say that the past two years have been hard work, but extremely satisfying and a lot of fun.
"It seems a huge shame, however, that due to the ongoing coronavirus outbreak we won't be able to look forward to this year's literary festival with that and many other planned events having been cancelled.
"But safety comes first and I am sure that once this terrible virus is defeated that life will slowly return to normal and community events in and around Ilminster will start to flourish.
"The fact that I have been able to produce the Ilminster Press each month since May 2018 is testament to the town – the fact that traders have been able to support me with advertising and I truly thank all of them."
Steve added: "Even in these unprecedented times I have had the support of local businesses. Although I know it is not easy for many traders and they have had to take the necessary action, I am proud to have continued to produce the Ilminster Press, albeit with a smaller pagination than normal.
"There was never any doubt in my mind that I would ever find myself with the headache problem of "nothing to put in the paper" because Ilminster has always been a vibrant town – full of life, full of energy, a fantastic community spirit and plenty going on.
"Ilminster Cricket Club, Ilminster Town Football Club, Ilminster Town Council, Swanmead Community School, Greenfylde First School, all the various clubs and societies within the town, the local traders and the public – it all makes for a terrific town and I've been proud to bring you Ilminster Press each month.
"The success of Ilminster Press has led me to broaden my horizons further by starting a Yeovil Press community newspaper which is also now nearing its second anniversary."
But Steve admits he could not have achieved any of this without some incredible support.
"A special big thank you to freelance photographer Christine Jones, who some of you might know better as "the lady that takes the photos" – her pictures, hard work, enthusiasm and encouragement have been key to the success of Ilminster Press," he said.
"I would also like to thank James Healey, of JRH Media, for his superb help with design and layout each month and for putting up with my ditherings!
"Plus I would like to thank the various outlets who have agreed to take copies of Ilminster Press each month; the advertisers once again for their support; and, of course, the readers for your contributions and words of support."
The next edition of Ilminster Press will be out in the latter part of May. So please get in touch with your news, views and photos by emailing Steve at ilminsterpress@gmail.com  - here's to the next 12 months!
Tags:
News.