ILMINSTER NEWS: Cash point explosion rocks Ilminster town centre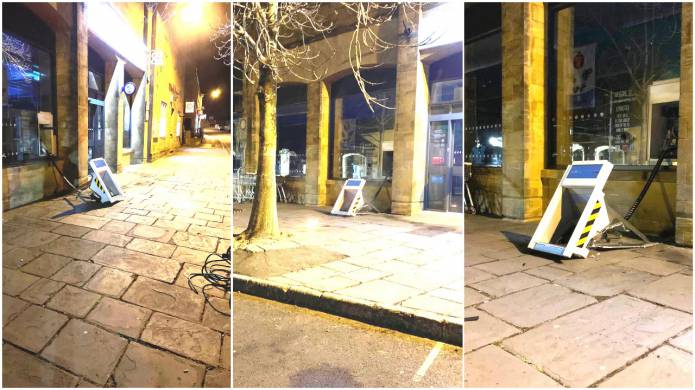 AN investigation is underway after a cash machine was attacked in Ilminster in the early hours of yesterday (Thursday, April 22, 2021) morning.
The incident happened at about 3.05am at the Co-op store in the Cornhill area of East Street.
A police spokesman said: "Two people are believed to have attacked the ATM and broken into the store. However, no money was reported stolen. It's believed a motorcycle was used."
Investigations, including reviewing CCTV, are being carried out.
The police spokesman added: "Anyone who saw people acting suspiciously nearby at the time, or may have footage from the surrounding area that could assist our enquiries, is asked to call 101 and give reference 5221085831.
"Alternatively, call Crimestoppers on 0800 55111. They will never ask for your name and you won't need to go to court."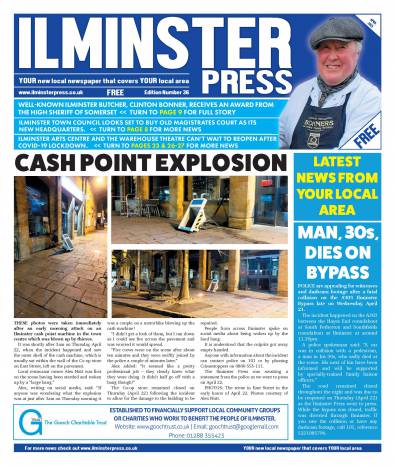 PHOTOS - TOP: The blown-up cash point machine at the Co-op store in East Street, Ilminster. Photos courtesy of Alex Nutt.
PHOTO - RIGHT: The front page of the April 2021 edition of Ilminster Press - featuring the front page story of the "cash point explosion."
Local restaurant owner Alex Nutt was first on the scene having been startled and woken up by a "large bang."
Alex, writing on social media, said: "If anyone was wondering what the explosion was at just after 3am on Thursday morning it was a couple on a motorbike blowing up the cash machine!
"I didn't get a look of them, but I ran down as I could see fire across the pavement and was worried it would spread.
"Fire crews were on the scene after about ten minutes and they were swiftly joined by the police a couple of minutes later."
Alex added: "It seemed like a pretty professional job – they clearly knew what they were doing. It didn't half go off with a bang though!"
The Co-op store remained closed on Thursday (April 22) following the incident to allow for the damage to the building to be repaired.
People from across Ilminster spoke on social media about being woken up by the loud bang.
Anyone with information about the incident can contact police on 101 or by phoning Crimestoppers on 0800-555-111.
PHOTOS - TOP: The scene in East Street in the early hours of April 22. Photos courtesy of Alex Nutt.
Tags:
News.