ILMINSTER NEWS: Swanmead headteacher devastated at council's decision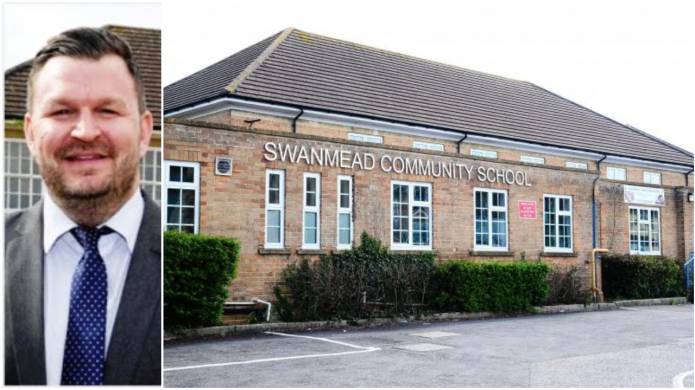 HEADTEACHER of Swanmead Community School has been left "numbed" by Somerset County Council's decision to change the educational set-up in the Ilminster and Crewkerne area.
Mark Walker, who has been headteacher at Swanmead for the past ten years, has remained publicly silent for a couple of days since the council's decision on Wednesday (March 17, 2021).
But now he has spoken in which his disappointment about the decision and his passion for education and Swanmead shines through.
The council's all-powerful Cabinet committee approved proposals for a major change in the delivery of education in the Ilminster and Crewkerne area.
From September 2022, the area's current three-tier school system will become a two-tier system with major changes including:
Wadham School to become a secondary school.
Maiden Beech, Ashlands, St Bartholomew's, Merriott and Haselbury Plucknett to become primary schools.
Swanmead and Greenfylde to amalgamate and become a primary school.
Closure of Misterton School.
The council's education and transformation spokesman, Cllr Faye Purbrick, said: "This marks a significant milestone for the future of education in Crewkerne and Ilminster."
It means that children will leave Ilminster at 11 and go to Wadham School in Crewkerne as opposed to the current set-up where they would remain at Swanmead until they are 13 before going on to complete their GCSE studies.
It means that Swanmead – in effect – will close and will see Greenfylde expand by an extra two year groups.
But Mr Walker has today (Friday, March 19, 2021) hit back at the decision-makers in no uncertain terms.
"The staff, parents and children of Swanmead Community School are devastated at the decision from this week's cabinet," he said.
"Although expected, the realism of the decision and what, if all this proceeds to happen, it will mean for so many people is sadly sinking in, with many of us left feeling that 'our plugs have been pulled out.'
"In truth, this was a decision that was made quite a few years ago. As has widely been stated, education in the area has been scrutinised for many years and wished for change for so many decision makers.
"They can say as often as they wish that this quest has been based on providing 'high quality education for every child' but, as regularly is the case when politics rules, they are fooling no one and the majority aren't buying it for a second.
"The schools in the area deliver and through the work they have done together, they have just got better over the years.
"Striking to capture and formalise this work through properly supporting a multi academy trust option to aid the finance issues was the way to deal with this. The system and quality of education in Crewkerne and Ilminster should have been regarded as one of the 'jewels in the crown' for the county's schooling with it being the envy of many and the reasons why many families choose to live in the towns and staff choose to work within them. Taking a sledgehammer to it was not what most people had in mind and has left hundreds perplexed and asking why.
"If the Cabinet of decision makers were to spend a day in my school; to see the smiles, to experience the quality, to feel the love, then would they have come to the same decision? Have any of them ever been through the front door? No.
"Have any of them every spoken to the children, parents or staff members in a proper dialogue? Of course not.
"Has any decision maker, even the Cabinet member responsible for education, ever had a single conversation with me as headteacher? Not one. In fact, despite being one of the longest serving headteachers in Somerset, I doubt she could pick me out of a line-up."
Mr Walker added: "I know that many will now be deciding how best to challenge the decision. Both morally and legally, groups across the two towns will be choosing to plot their response and I guess the local authority should be preparing themselves for that.
"Over my ten years of headship, I have witnessed the fantastic power of parents. In terms of this, many will not be going quietly in the best interests of their children.
"Despite the bitterness and difference of opinion, what we do have is a group of headteachers and staff who will be committed to work together throughout this.
"I have the honour of chairing the Headteachers of Crewkerne and Ilminster, they are an inspiring group and the mutual support and professionalism we work with and offer each other gives us all hope. For all of those people, me included, it will be business as usual whatever direction this goes. I will be at my desk and around my school each day supporting my colleagues in delivering the best 'educational day out' we can until we are told otherwise. Falling out now and power grabbing can't be an option and anyone who chooses to move in that direction isn't in it for the right reasons.
"In conclusion, it's difficult to know how to feel. You strive, you have impact, you deliver yet you're told to do it differently.
"Not because it isn't good enough or because the customer isn't happy but because someone just says 'because you have to.'
"The feeling of numbness that now exists I know will pass, it has to, and will we wake tomorrow ready to fight another day. It is the least that the children in these two towns and their families deserve."
Tags:
News.