ILMINSTER NEWS: Swanmead governors are shocked and angry over planned education changes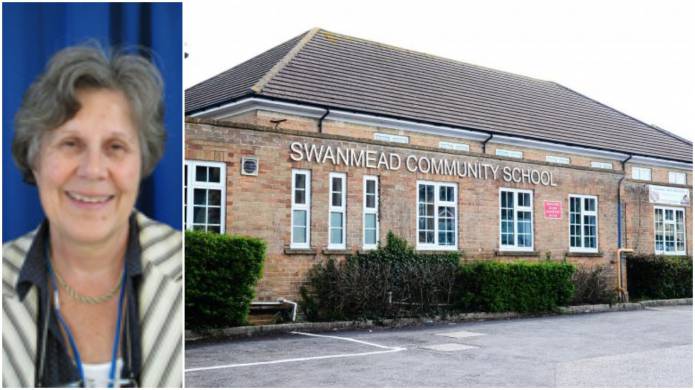 THE chairman of governors at Swanmead Community School in Ilminster has said that people have been misled over the proposed changes to education in the area.
Marian Gamper (pictured above - in happier times!) has written to parents of students at Swanmead today (Monday, March 15, 2021) to say that the name of Swanmead will be "rubbed out" and current headteacher Mark Walker will be "made redundant" as part of the controversial proposals being put forward by Somerset County Council.
And she has said: "We are shocked, angry and very sad to learn, so late in the day, that the local authority has created a situation where our excellent headteacher and staff, with their many years of Key Stage 2 experience and of delivering a broad curriculum, may have little or no part to play in creating Ilminster's so-called "new" school."
Her letter has said that "consultations and reactions" over the planned change from the current three-tier education system to a two-tier system have been based on the "assumption" that Greenfylde First School and Swanmead Community School would close and amalgamate into a new primary school.
"The local authority (Somerset County Council) suggested Swanmead and Greenfylde form a small joint governing body and appoint a future headteacher as soon as possible - to step into the job in September 2022 but get involved in planning next year," she wrote.
"Swanmead governors think the restructure will interrupt and damage the education and wellbeing of the pupils of the two schools.
"But if the plans are approved, they agree with the local authority that the wisest, most locally democratic way to contribute to the new school and reduce the harmful effects of these big changes, is for some governors from each school to share equally in choosing a headteacher and supporting plans for the new school.
"We want our parents to have confidence that these decisions are made constructively & cooperatively in the best interests of the pupils."
But Mrs Gamper has added: "However, the Diocese and Greenfylde chair of governors have recently suggested to us the true situation is not at all as we were led to believe.
"In practice, only Swanmead will close and Greenfylde will actually remain - maybe under a new name - BUT it keeps its identifying school number under LA plans and so avoids the legal requirement for new schools to become academies.
"So the "new" school will legally still be Greenfylde.  It simply expands by taking Years 5-6 from Swanmead and using all or some of Swanmead premises."
Mrs Gamper added: "If this is correct, the LA has either misled us or not done its homework. Ilminster will not have a "new" primary school. Swanmead will just be rubbed out and its headteacher made redundant.
"We raised this on February 9 and asked the LA to clarify what will happen.  They finally confirmed on March 8 that the so-called "new" school" will have Greenfylde's school number, but our remaining queries are "with their legal advisers" and unanswered.
"They have not got in touch to say whether there will be, as previously proclaimed, a genuine amalgamation of the schools  and a local vision for a fresh new school  or not."
But when the Swanmead governors sifted through everything the LA had published online, they have found this Government advice:
The LA can publish a proposal to close one school and enlarge/change the age range/transfer site of an existing school to accommodate the displaced pupils. The remaining school would retain its original school number as it is not a new school even if its phase has changed.
Mrs Gamper has said that their investigations have led to three crucial statements being asked of the Somerset County Council.
1: The implications of this were not made clear to all those who contributed to the pre-Christmas and statutory consultations.
2: The local authority has said, more than once, that both headteachers can apply to lead the "new" school.
3: What confidence can people have that the local authority has not missed out other important details from the published restructure plan?
The changes will see pupils in Ilminster leave the planned new "primary school" at the age of 11 and then go on to Wadham School in Crewkerne or, if they wish, parents could apply to send their children elsewhere such as Holyrood Academy in Chard.
Currently children go to Greenfylde First School and then onto Swanmead Community School in Ilminster before moving onto Wadham at the age of 13 to complete their GCSEs.
A final decision about the education changes will be made at the council's Cabinet meeting on Wednesday, March 17, 2021. For more information click on this link - Join an online meeting (somerset.gov.uk) .
A spokesperson from Somerset County Council said: "We'd like to thank everyone who has given their views on the future of education in the Crewkerne and Ilminster area within consultation and engagement that has taken place over the last five years. We appreciate it is an emotive subject and all views have been considered within our current proposal, which the Council's Cabinet is due to discuss and make a decision on this on Wednesday, March 17, 2021."
Tags:
News.