COMPETITION: Sophy's great New Year giveaway competition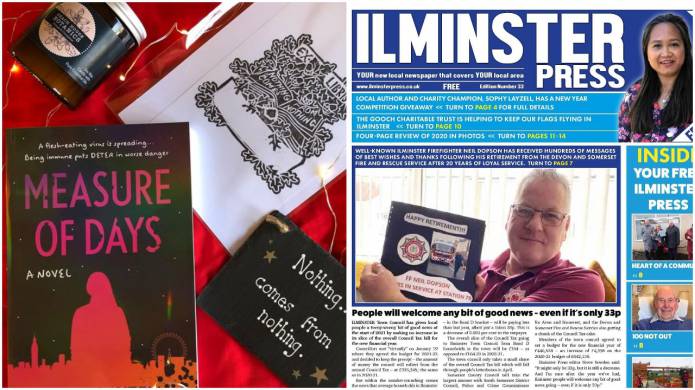 LOCAL author and charity fundraiser Sophy Layzell has teamed-up with the Ilminster Press for a fantastic giveaway competition.
Sophy, who last year became a first-time author with her novel Measure of Days, is well-known in the Ilminster area for her work with the Jemima Layzell Trust and raising awareness about brain injured children and the importance of organ donation.
Many people will know that Sophy's daughter, Jemima, tragically collapsed in March 2012 at her home in Horton and died a few days later at Frenchay Hospital in Bristol from a fatal brain aneurysm. She was just 13.
Jemima left behind a great legacy – as an organ donor she saved the lives of eight people and restored the sight of three others. As an aspiring author Jemima left a number of diaries, the last one she called The Draft which was later published by her family after her untimely death.
Now proud mum Sophy has also gone into print with her debut novel Measure of Days and is offering readers a chance to win a free copy.
Sophy is also giving away an orange and cinnamon candle made locally by Beach House Botanics – perfect for lighting while enjoying her book.
Also in the prize is motivational handwritten sign Nothing Comes From Nothing by Forget Me Not Designs – a quote that plays an important part in Sophy's novel.
And finally Sophy is giving away a hand-printed bookplate she has designed and can be used in a book of your choice.
To win all these fabulous goodies – all you have to do is answer this simple question.
What is the name of Sophy Layzell's debut novel?
The competition was run in the January 2021 edition of the Ilminster Press community newspaper and the deadline for entries was February 7, but we are extending that for a few days until February 10 to give more time for online readers to submit their answers.
Send your answers via email to ilminsterpress@gmail.com by February 10 and the winner will be notified by email.
Tags:
News.