COUNTDOWN TO CHRISTMAS 2019: Festive music galore for switch-on night in Ilminster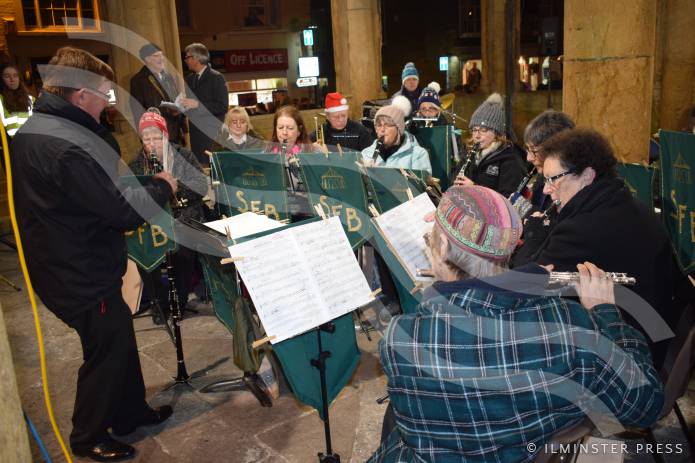 THE Somerton Festival Band will be playing Christmas music in the Market House in Ilminster, as well as other festive tunes from DJ Ginge, while the children's fun fair will be better than ever with a roundabout, inflatable, hook-a-duck and more for the Christmas Lights Switch-On on Friday (November 22, 2019).
The popular Salvation Army band will be playing outside the Dolphin pub from 6.30pm - look out for the new large tree which has been restored after many years - MCJ Puppets in East Street from 6.30pm and Father Christmas in Santa's Grotto at the Ile Community and Youth Club. And while you wander - and wonder - around town looking at the gift ideas in the shop windows, also take part in the 'Odd Thing Out' competition where traders hide an item they do not usually sell in the window displays.
And collectors will be out during the evening so please make sure you make a donation to help keep the lights tradition in the town.
The stage is being improved for the opening ceremony, and it will also be the first time the lights will be turned on by the magic of wifi.
Thanks to the work of Matt Sainsbury, lights and garlands in the vicinity of the switching on ceremony should all come on together when the plunger is pushed.
The old-style manual switches used by the Christmas Lights Committee often have a second or two between different lanterns lighting. With the new wifi switches it is hoped there will be no delay. "Many of the lights, garlands and frames will be wireless and come on as one," said Ilminster Christmas Lights Committee chairman Clinton Bonner. "Thanks to the work of Matt we can now operate them from an app on his mobile phone!
"We hope to further extend this next year and while, previously, it might only be a few seconds between the lights coming on, hopefully they will come on as one this year."
Tags:
News.