COUNTDOWN TO CHRISTMAS 2019: It's a big night for Geoff in Ilminster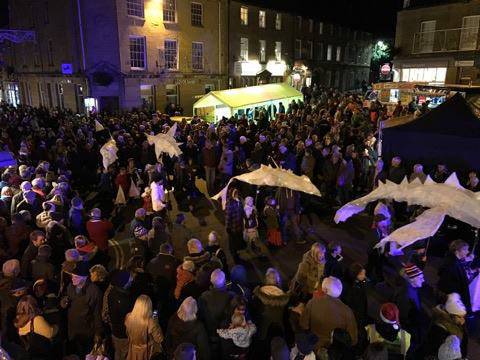 THE very popular Christmas Market in the Swan Precinct and Tesco Courtyard will start at around 3pm on Friday (November 22) and run through until 8.30pm.
There will be more than 20 stalls this year selling special gifts for Christmas by local craft makers and organisations as well as other Christmas gifts, food and decorations.
And the Tesco Courtyard will take on a new look this year with lights in some of the trees for the first time and a large frame - thanks to the generosity and assistance of Tesco and the Ilminster Bowls Club.
At 6.30pm leading up to the switch-on ceremony there will be the annual Lantern Parade headed by the Ilminster Majorettes and in addition to the large contingent of children of Greenfylde School there will be larger lanterns made by teams throughout the town. They have been attending lantern workshops in the run up to the day in order to put on a fine show.
Anyone can make a lantern - just turn up on the day at the Dolphin at 6.15pm and join in. Check out Richard Godden's Youtube video at https://www.youtube.com/watch?v=D7RBHpD0gJo to see how to do it safely.
Then at 7pm comes the big attraction of the night - the switching on of the lights by Geoff Hansford who was the winner of a big raffle held last month.
The raffle raised over £800 for the Christmas lights appeal thanks to the generosity of ticket buyers and a donation from Ilminster's own Elvis, Barry Paul who took part in a show when the tickets were drawn.
Geoff will get pride of place at the ceremony in the Market House when the giant plunger is pushed to switch on the illuminations.
The food court opens at 6pm in the Market Square with excellent food to warm you up for the events to follow, and you can make sure you get a good position for the switch-on.
PHOTO: The lantern parade from a previous year's switch-on event in Ilminster.
Tags:
News.