OUT NOW! November edition of Ilminster Press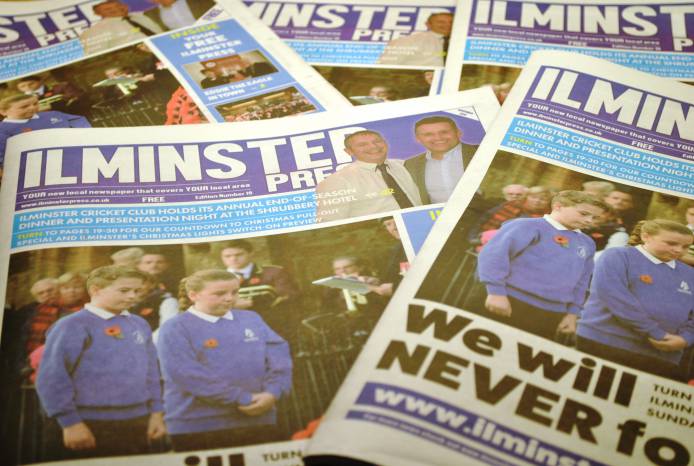 THE November edition of the FREE Ilminster Press community newspaper is out NOW for people to pick-up from various outlets in and around the town.
The 48-page paper is packed with local news, photos, leisure and sport from Ilminster and also includes a 12-page Countdown to Christmas pull-out.
The November edition looks back at Remembrance Sunday and looks forward to Christmas with a special emphasis on tomorrow's (Friday, November 22) switching-on of the Christmas lights in Ilminster.
Plus there is a fabulous three-page feature to celebrate 50 Years of Business for Bonners of Ilminster.
Editor Steve Sowden said: "I hope you enjoy this edition and please spread the word about this publication with family, friends and work colleagues.
"I would like to thank the various outlets who have agreed to take copies of the Ilminster Press which can be picked-up for free by people and to James Healey, of JRH Media, for his fantastic help with design and layout.
"A huge thank you once again to all the advertisers in this month's edition – your support really is appreciated.
"Also special thanks to freelance photographer Christine Jones for all her photos, hard work, enthusiasm and encouragement."
The next edition of Ilminster Press will be out just before Christmas. So please get in touch with any events you would like covered and featured in the paper or send in your news, views and photos to me at ilminsterpress@gmail.com .
Tags:
News.