ILMINSTER NEWS: Ilminster Tesco says farewell to Sara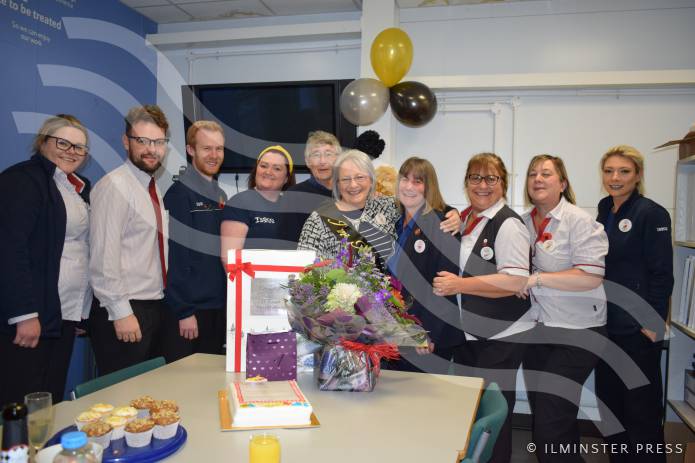 THERE were smiles and tears at the Tesco store in Ilminster as manager Sara Goodchild left for the final time in order to start her retirement.
Sara had been manager at the store for the past seven years and although she was looking forward to her retirement, she was sad to leave behind her colleagues and customers.
Some staff members formed a guard of honour as Sara left the store for the final time at lunchtime on November 9.
"My last day at Tesco was out of this world and emotionally exhausting," said Sara. "Thank you everyone for the generous gifts, beautiful flowers, cards and messages of kindness – I was totally overwhelmed.
"Special gratitude to the Ilminster team – they blew me away. I love them all."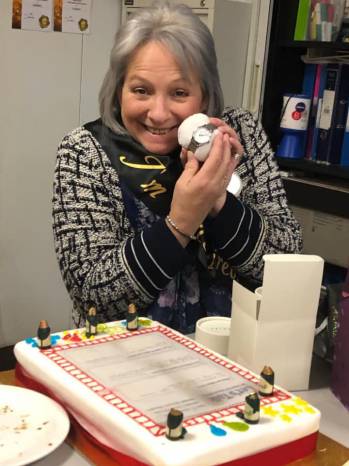 PHOTO - TOP: Sara Goodchild (centre) on her final day at the Tesco store in Ilminster before retiring. Photo: Christine Jones.
PHOTO - RIGHT: Sara Goodchild has left Ilminster having made lifelong friends and lots of memories. Photo: Submitted.
Sara had spent 35 years in retail having previously worked for the Top Shop before joining the Tesco supermarket company.
"I originally joined Tesco to help build the clothing business across the South West," she said.
"Then I moved to head office for five years, but I missed my home and trained to be a store manager to at least get a bit closer to home.
"So you can imagine my joy when I was able to combine working in the nicest store ever at Ilminster along with the best team and customers and able to go home at night.
"It has been a privilege to serve in the Ilminster community and I made some lifelong friends and I've got so many fond memories."
Tags:
News.