ILMINSTER NEWS: June edition of Ilminster Press is out now!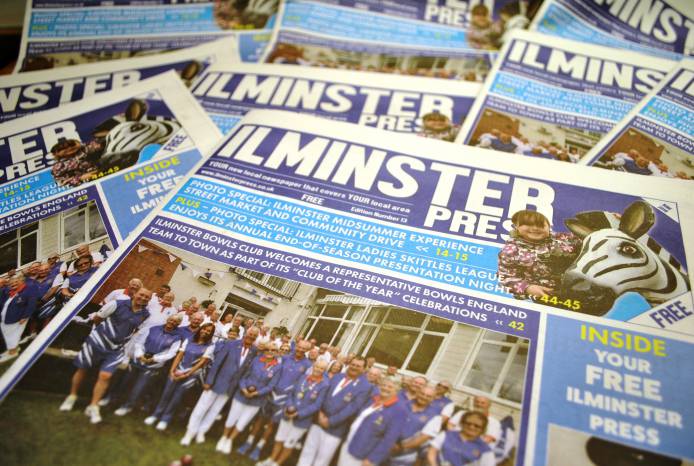 THE June edition of the Ilminster Press community newspaper is available for people to pick-up for free from outlets in and around the town.
The 48-page paper is packed with news, information and photos all from the local area over the past month.
It is available from the main Tesco store in Ilminster, McColls, the Co-op, Spar Garage in Ilminster, Shrubbery Hotel, Ilminster Arts Centre, Cottage Flowers, Monks Yard, Jordans Courtyard, Horton Post Office, Seavington Community Shop, Shepton Beauchamp Village Shop and the Seavington Community Shop.
This month's edition includes photo specials from the recent Ilminster Midsummer Experience, Coming of Age Ball in aid of the Jemima Layzell Trust, Ilminster Ladies Skittles League annual presentation, South Petherton Folk Fest and Ilminster Cricket Club.
There is also news from the recent Ilminster Literary Festival and the D-Day 75th anniversary commemorations.
There are special features from the Warehouse Theatre in Ilminster and the award-winning Ilminster Bowling Club.
And this month's edition also includes Ilminster Town Council's annual review of 2018-19.
Ilminster Press editor Steve Sowden said: "Once again I would like to take this opportunity to thank all the advertisers – without whom the Ilminster Press would not happen.
"A special big thank you to freelance photographer Christine Jones for her pictures, hard work, enthusiasm and encouragement.
"And I would also like to thank James Healey, of JRH Media, for his superb help with design and layout each month.
"Plus I would like to thank the various outlets who have agreed to take copies of Ilminster Press each month; the advertisers once again for their support; and, of course, the readers for your contributions and words of support."
The next edition of Ilminster Press will be out in mid-July. So please get in touch with any events you would like covered and featured in the paper or send us your news, views and photos to Steve at ilminsterpress@gmail.com .
Tags:
News.