ILMINSTER NEWS: Good luck to the Warehouse Theatre team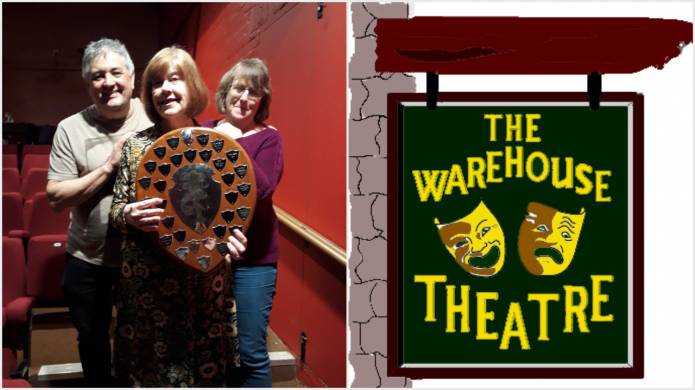 THE Ilminster Entertainment Society will be hoping to wow the judges on Saturday (April 13, 2019) night at the Quarter Final of the All England One Act Theatre Festival.
The society's play A Resounding Tinkle scooped top prize last month in the Somerset County One Act Play Drama Festival held at the Warehouse Theatre in Ilminster and now will be taking the play to the Mission Theatre in Bath for the next stage of the competition.
The Warehouse Theatre in Ilminster played hose to the Somerset festival over the weekend of March 23-25 and a total of nine teams from across the area competed for the County Shield and an opportunity to progress into the Quarter Finals of the All England One Act Theatre Festival.
Following stiff competition, the adjudicator, Nancy Heath, from the Guild of Drama Adjudicators, declared the Ilminster Entertainment Society's production of A Resounding Tinkle by N F Simpson, as the overall winner.
This followed on from a similar success for IES last year too when they won the County Shield with their production of Melody, featuring Mick and Irene Glynn.
A Resounding Tinkle was written in 1957 by NF Simpson, a prolific Britsh playwright who was an early exponent of the Theatre of the Absurd. His work became an early influence on the likes of Peter Cook and later, the Monty Python team.
The play is set in 1957, in the suburbian home of Bro and Middie Paradock who live in a world of absurd reality where they take everything in their stride as being perfectly normal.
This ranges from two comedians turning up on their doorstep to amuse them, a man at the door wanting them to form a government, a visit from Uncle Ted who has changed his sex and not to mention the delivery of an oversized elephant into their back garden!
The play requires the actors to play their parts completely straight,  as though this is their normal reality. By doing so, this provides for a hilarious spectacle for the audience as they too become submerged in the lives of the three characters on stage.
The play is directed by Richard Tingley and the cast is made up of Mick Glynn as Bro, Ann Cook as Middie and Veronica Horman as Uncle Ted.
The team will now appear in the quarter finals at the Mission Theatre,  Bath at 7.30pm on Saturday, April 13, where they will be competing with 3 other groups from the region who each won their own local county festivals.
Should they progress further, then the semi finals will be in Frome in May and the All England Final will be held in Maidenhead in Berkshire in the summer.
PHOTO: A Resounding Tinkle with (from left) Mick Glynn, Veronica Horman and Ann Cook.
Tags:
News.