ILMINSTER NEWS: Don't forget to pick-up your FREE copy of Ilminster Press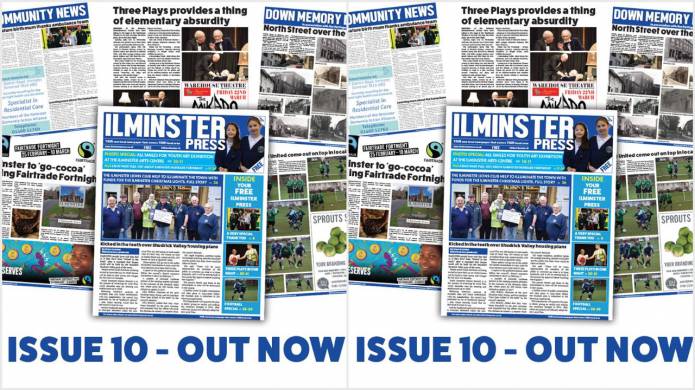 THE February edition of Ilminster Press - your free, local monthly newspaper which looks to report on the positive aspects of the Ilminster and surrounding area – is available in various outlets in and around the town.
This 40-page edition of Ilminster Press is once again packed with news and photos from around the area.
There are copies available in places such as the Tesco store in Ilminster, the Co-op, McColls, Ilminster Arts Centre, Ilminster Bookshop, Cottage Flowers, The Stonemasons, The Shrubbery Hotel, Horton Post Office, Jordans Courtyard, Monk's Yard, Dillington House, Seavington Village Shop, Shepton Beauchamp Village Shop and the Lopen Raj restaurant.
Included is a special eight-page pull-out section on the forthcoming Fairtrade Fortnight. Ilminster is a proud Fairtrade Town and the group which promotes Fairtrade locally does such a great job in trying to raise awareness and spread the word of the organisation.
Ilminster Press editor Steve Sowden said: "Personally, I can't wait for the Chocolate Festival which will be held at Greenfylde First School in Ilminster on Saturday, March 2!
"May I once again take this opportunity to thank everyone who has sent me emails and messages congratulating the Ilminster Press team on the work that we are doing with YOUR free monthly newspaper.
"We have heard that some people often struggle to get a copy of the Ilminster Press because they fly off the shelves when distributed. If you would like to guarantee getting a copy – we can offer a subscription service for £25 a year; drop us an email at ilminsterpress@gmail.com and we will send you more details."
Steve added: "It is great to welcome to Ilminster national DIY mail-order firm Screwfix, which has its origins just down the road at Yeovil, with its new trade store in Harts Close.
"Screwfix is advertising in this month's edition of Ilminster Press and I would like to thank all the advertisers who continue to support the paper – without you there would be no Ilminster Press.
"I would like to thank the various outlets who have agreed to take copies of Ilminster Press which can be picked-up for free by people and to James Healey, of JRH Media, for his fantastic help with design and layout.
"Also a huge thank you once again to freelance photographer Christine Jones for all her photos, hard work and support – it really is appreciated."
The February edition of Ilminster Press features photo specials on the Three Plays in One Night being performed by the Ilminster Entertainments Society at the Warehouse Theatre, plus local football action involving two of Ilminster Town's teams.
There is also news about the Mayor, Cllr Julie Fowler, as she found out more about an excellent equine learning facility on the outskirts of the town, while the Ilminster Press met up with talented young artists from Greenfylde School at an exhibition which included some of their work at the Ilminster Arts Centre.
The next edition of Ilminster Press will be out in the second-half of March.
So – once again - please get in touch with any events you would like covered and featured in the paper or send the Ilminster Press your news, views and photos to me at ilminsterpress@gmail.com .
Tags:
News.