ILMINSTER NEWS: Beach party fun could make a lifesaving difference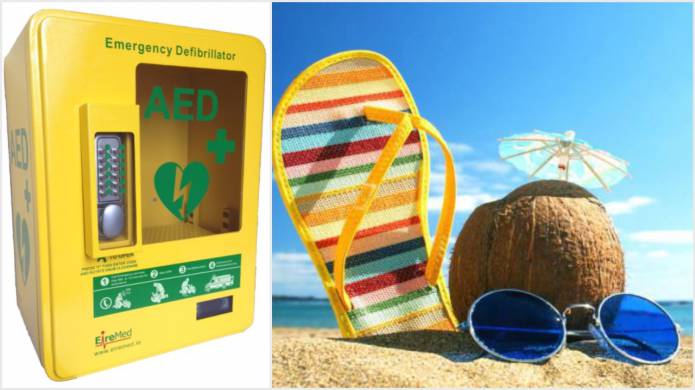 A SPECIAL Shorts and Shades Party Night will be held in Ilminster to help raise money for the community's ongoing work to provide potentially lifesaving defibrillators in the town.
The party will be held at Ilminster Cricket Club's Tony Rice Bar on the Ilminster Recreation Ground on Friday, August 17, from 7pm and there will be a disco and a raffle and, obviously, the bar will be open. Admission is free.
But although it should be a fun-filled night for everyone who attends – it is raising money for a very serious cause.
Every penny could count towards saving a person's life – somebody who is suffering a heart attack and needs urgent medical attention. A defibrillator could make all the difference between whether that person lives or dies.
The Ilminster Public Defibrillator Appeal group cannot thank the community enough for the incredible support it has already generously shown – but it needs to continue.
It was back in early 2016 when the fundraising started after it was discovered there were no public defibrillators – the machines that can be used on someone having a heart attack – available 24-hours a day in Ilminster.
A small fundraising team got together and quickly raised enough money for two defibrillators. One defibrillator was placed at the Archie Gooch Pavilion off Canal Way and opened in late 2016, while a second machine officially became available in the Market Square earlier this year.
Organisers were left flabbergasted at the speed in which they raised around £4,000 from public donations to fund the machines.
But the group now needs to call upon the community once again to help raise money for the maintenance of the machines and new batteries and electrode pads, while it would also like to raise enough cash to install extra defibrillators in the town.
An appeal spokesman said: "It would be a huge shame if we had to stop using the defibrillators that we've already got because we couldn't pay for their maintenance.
"It doesn't bear thinking about if someone needed a defibrillator in a medical emergency and it couldn't be used because it wasn't working properly.
"So that is why we need the public's continuing support. You never know when you or a family member might need one of these machines."
Both defibrillators in Ilminster funded by the appeal group have been used in real emergencies.
FOR MORE NEWS FROM THE ILMINSTER AREA – PICK-UP A COPY OF THE AUGUST EDITION OF THE ILMINSTER PRESS COMMUNITY NEWSPAPER – IT'S FREE!
Tags:
News.