ILMINSTER NEWS: A truly humbling experience says Royal British Legion member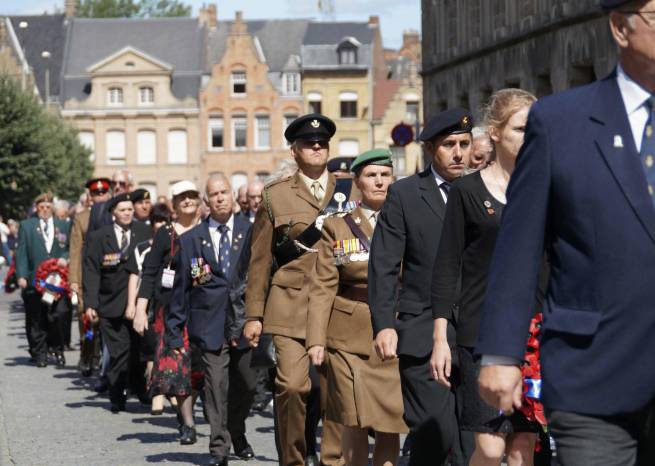 TWO members of the Ilminster branch of the Royal British Legion have returned home having taken part in a moving Pilgrimage of Remembrance to the battlefields of the First World War.
The Royal British Legion event, known as Great Pilgrimage 90, took place between August 5-9 and was one of the largest in the charity's history with thousands of people involved.
GP90 marked the 90 years since the original Royal British Legion pilgrimage in 1928 which saw 11,000 First World War veterans and war widows visit the battlefields of the Somme in France and Ypres in Belgium a decade after the bloodshed had ended.
Legion members, Dean Brown and Paul Sainsbury, represented the Ilminster branch at the GP90 as standard bearer and wreath layer respectively where the event concluded with a poignant march through Ypres to the Menin Gate on August 8.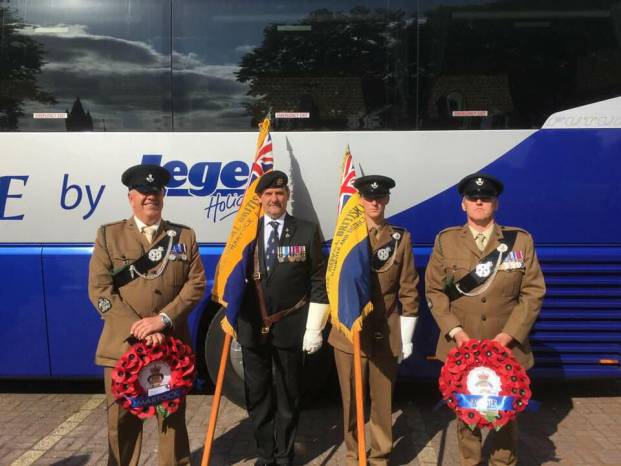 PHOTO - TOP: Paul Sainsbury (centre) on the march to the Menin Gate.
PHOTO - RIGHT: Paul Sainsbury and standard bearer Dean Brown (right), of the Ilminster branch of the Royal British Legion, with colleagues from the Martock branch at the Pilgrimage 90 event.
"It was a great honour and a privilege to take part in a truly humbling event on behalf of the branch and the wider Ilminster community," said Paul.
"Following in the footsteps of the original pilgrimage took us to many battlefields where we paid our respects to the fallen.
"The parade of standards, the largest ever seen at the Menin Gate, was outstanding. It really was a memorable experience for all involved.
"I will definitely be returning in the future."
They joined more than 2,200 other Legion representatives and dignitaries at the Menin Gate ceremony including civic and military guests from the UK, Commonwealth and Northern Europe.
Dean carried the Ilminster standard, Paul laid a wreath on the behalf of the town.
FOR MORE NEWS FROM THE ILMINSTER AREA – PICK-UP A COPY OF THE AUGUST EDITION OF THE ILMINSTER PRESS COMMUNITY NEWSPAPER – IT'S FREE!
Tags:
News.