ILMINSTER NEWS: Florist Angie Blackwell left gobsmacked at Mayor's Award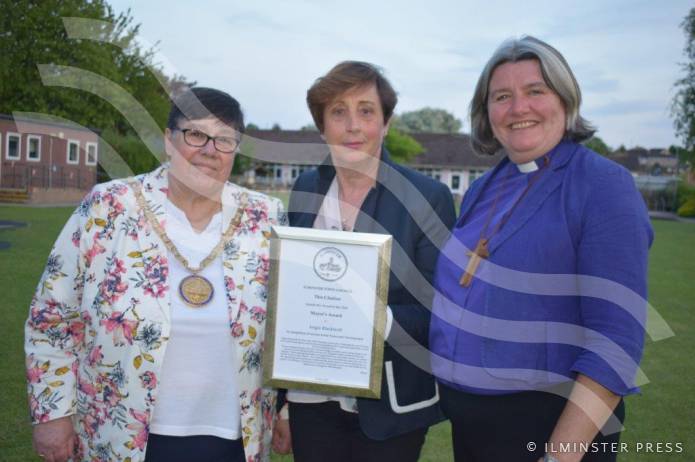 WELL-KNOWN Ilminster florist Angie Blackwell was – uncharacteristically – left speechless when she was named as the 2018 recipient of the Mayor's Award.
Angie, who has run award-winning Cottage Flowers in the town for 20 years, was presented with the award by the Mayor, Cllr Val Keitch, in recognition of her passion for community life and "maintaining the community spirit that is at the heart of Ilminster."
Cllr Keitch said: "Angie is always prepared to give time and knowledge to enable much-needed funds to be raised for local charities which include the Christmas lights and the Warehouse Theatre.
"She often makes floral table arrangements for an event that can be raffled for the benefit of the charity.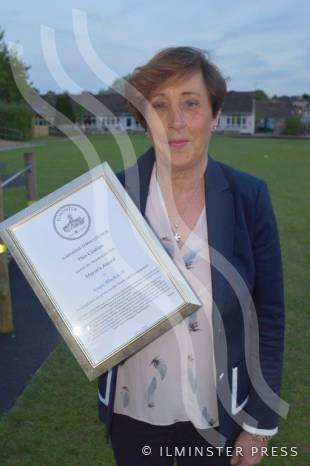 "One of the stand out events that took place last year was the organising and running of a traditional fete at her home in order to raise money to replace a building at a local school in memory of her sister and to provide funds for the cancer unit at Musgrove Park Hospital in Taunton."
Angie's list of community-spirited activities are numerous:
Fundraising flower demonstrations for numerous local charities including the Ilminster Christmas Lights and the Warehouse Theatre.
Giving talks and flower demos to local flower clubs.
Providing raffle prizes for numerous organisations.
Organising the local school children to sing Christmas carols in the Market Square prior to the Victorian Evening – as well as providing sweets and warm drinks.
Providing the lights for the children's lantern parade on Victorian evening.
Last year holding a traditional summer fete at her home for the local school and the cancer unit at Musgrove Park Hospital.
Willing to go that extra mile to help.
Over the years hosting charity balls at the Shrubbery Hotel and the Whitelackington Manor.
Looking after elderly customers by offering lifts home in her van.
Helping wherever possible with local church flower festivals.
Making cakes for birthdays, charity events and special occasions within the town out of her own generosity.
The award was presented to Angie by the Mayor, Cllr Keitch, during the Annual Community Assembly on Tuesday (May 15, 2018) at Greenfylde First School. Angie was also congratulated by the Bishop of Taunton, Bishop Ruth Worsley.
Angie was left in shock as the penny began to drop that the Mayor was talking about her in the citation for the award.
And she was heard saying: "I'm extremely gobsmacked – speechless."
Tags:
News.