ILMINSTER SPORT: Ilminster welcomes Bowls England to town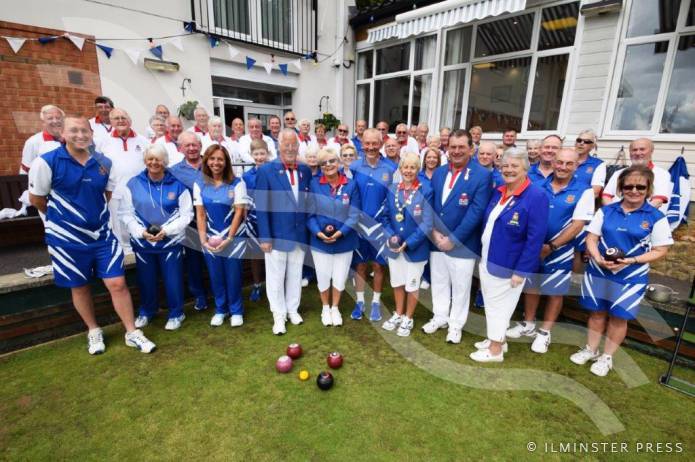 A CELEBRATION MATCH to mark the selection of Ilminster Bowls Club as Bowls England's Club of the Year was held earlier this month.
The prestigious title, generously supported by Drakes Pride, is awarded annually to the club that is judged to have shown the greatest efforts to promote the club, increase membership and work with the local community.
Ilminster BC is very active on social media and continues to engage with regularly with the local newspapers, radio and television.
The club has produced a number of advertising banners which have been strategically placed within the town, in addition to using the free Bowls England recruitment material to a great success.
In the last 12 months, the club has gained four new sponsors and has created a collaboration with Ilminster Town Council to become a polling station for local, European and general elections.
Bowls England chief executive Tony Allcock said: "The quality of entries this year was once again of an exceptionally high standard.
"It is clear that many clubs are raising their game with regard to the work that they are doing to recruit and retain new members – most noticeably an increase in the use of social media to promote the sport to a wider audience.
"It was unanimously felt that Ilminster BC's work to increase membership across all ages and abilities gave them the edge."
The Bowls England representative side that visited Ilminster was led by the organisation's president Hazel Marke who is a member of Alton Social Bowls Club in Hampshire.
Hazel said: "I'm delighted to have brought a Bowls England representative side to Ilminster Bowls Club to mark the club's Club of the Year success.
"A celebration match against a Bowls England representative side is an ideal way for a club to celebrate their special occasion in style.
"We hope that our visit will leave a lasting impression on the club and ensure many new friendships are made both on and off the green."
Hazel told the Ilminster Press that she was very impressed with how Ilminster Bowls Club had become an integral part of the local community.
"You can just tell on first arriving at the club that it is a real asset to the town and so close to the town centre," she said. "It's a fantastic facility here in Ilminster and I'm not at all surprised at how popular it is with not only players, but those looking for a social venue.
"Bowls is a growing sport and I know that Ilminster has got some great young players coming through, while the sport is also great for older people who might be on their own and they want to make new friends and have some company with others."
Rachel Charles, president of Ilminster BC, added: "As a Club, Ilminster has always prided itself on the services it provides to all members, both playing and non-playing, and the role it plays in supporting the local community. Having been runner-up for this award in 2017, to win in 2018 is something of which we are rightly proud."
One player at the club for the celebration match was former member Rob Paxton who has had a successful career in the sport.
Rob, who won a bronze medal in the singles as part of the English team at the 2018 Commonwealth Games in Australia and earlier this year won the mixed pairs gold with Ellen Falkner at the World Indoor Bowls Championship, said that he had very many happy memories of Ilminster Bowls Club.
"It really is a great club," he said. "Although I've moved away from here now, I like to return when I can – I've got some good friends at Ilminster Bowls Club."
PHOTOS: Taken by Christine Jones, of Ilminster Press.
Tags:
Sport.