ILMINSTER NEWS: Golden times for Bonners the Butchers as they cut above the rest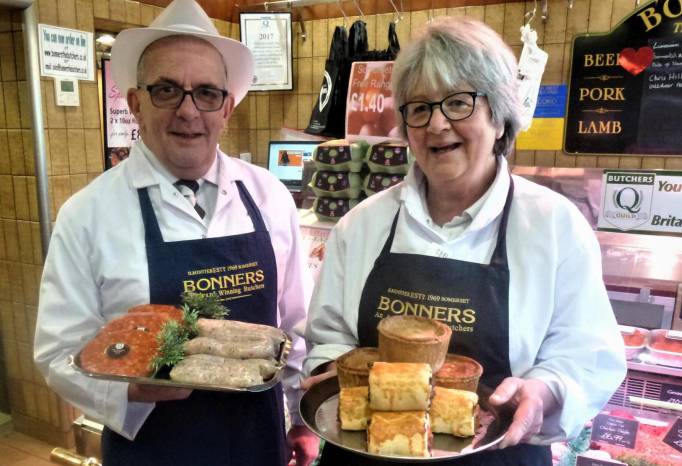 IT was a glittering time for Ilminster family butchers Bonners at the national 2018 Smithfield Awards with four top prizes.
Their Silver Street shop picked up two golds and two silvers for their products at the show held annually by the Q Guild of Butchers.
The event recognises and rewards excellence in products being produced by guild members who are among the best butchers throughout the country.
And Bonners picked up four major awards in the craft butchery section:
GOLD - for pork and honey glazed parsnip sausage roll with a score of 98 out of 100;
GOLD - for pork chorizo and smoked bacon burger;
SILVER - for pork and Devon chutney pork pie;
SILVER - for gluten free lean and lite chicken and watercress sausages.
Artisan butchers from across Britain were recognised in 18 categories, which ranged from traditional pork sausages, burgers, pies and bakery to ready meals and gluten free products as well as beef and lamb products from Scotland, Wales and England. 
The awards were judged 'blind' by an independent panel of food and meat industry experts at City of Glasgow College and were announced by BBC broadcaster and food expert Nigel Barden at the award ceremony at Stationers Hall in London this month.
Clinton Bonner said: "We have been members of the Q Guild for nearly 15 years and we have learnt and shared so much with like-minded butchers. The Smithfield awards are a great way to get recognition for all my staff who work so hard providing superb hand crafted produce. The recent prizes go to show that we continue to do our best and be innovative in what we sell to the highest possible standard."
Nigel Barden said: "Everything I've witnessed about the Q Guild of Butchers convinces me it's an outstanding institution, representing some of the finest butchers the UK has to offer. The welfare of the animals, whose meat they sell and the farmers who rear them are of primary concern and in turn the customers who purchase their wares."
Chairman of the Q Guild Mark Turnbull said: "The Smithfield Awards are always a celebration of butchers who are the top of their game, combining traditional skills and knowledge with innovation; great taste with immaculate sourcing."
Bonners gold and silver products are available from the shop at 37 Silver Street, Ilminster, or online from www.bonnersthebutchers.co.uk.
PHOTO – TOP: Bonners' chief products maker Phil Nippard and Fliss Bowditch who runs the delicatessen kitchen.
Tags:
News.