ILMINSTER NEWS: Apply now for Bags of Help funding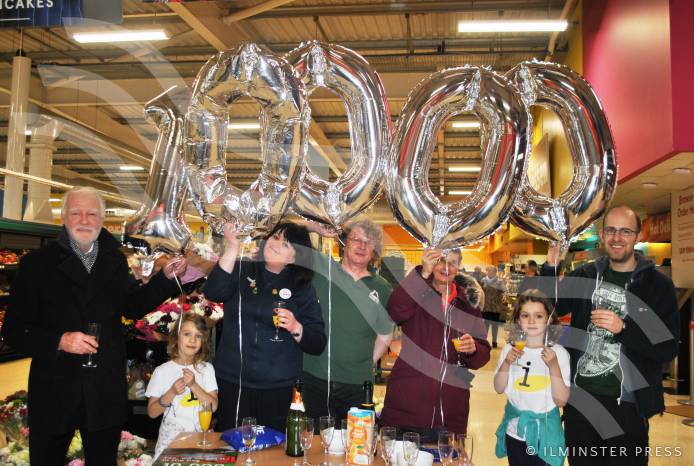 GROUPS and organisations in the Ilminster area are being invited to apply to become a beneficiary of a charitable funding scheme organised by Tesco.
The company's Bags of Help community grant scheme is supported by Groundwork and since its inception just two years ago has helped 10,000 projects across the country.
Locally the Ilminster store has supported lots of groups such as the Warehouse Theatre, Ilminster Town Ladies Football Club, Ilminster Arts Centre, the Ilminster Literary Festival, Ilminster Town Council, Ilminster Brownies, Ilminster Majorettes, Broadway and Horton Cricket Club and others.
Every two months the Tesco store in Shudrick Lane gives out £7,000 to three local groups or organisations deserving of financial support as part of the scheme which is financed by the sale of 5p plastic carrier bags.
The Ilminster store gives out cheques for £4,000, £2,000 and £1,000 six times a year.
A celebration was held at the store on Saturday (February 3, 2018) to mark the company having now helped 10,000 groups across the country.
But the store's community champion, Helena Jones, has said that they are always looking for local groups to support in the future.
If any group or organisation would like to be considered in the future for funding support – please email Helena at helenajones79@hotmail.com .
PHOTO – TOP: Tesco community champion Helena Jones (third left) and Richard Younger-Ross, of Groundwork (fourth left) with representatives of the Warehouse Theatre and Ilminster Arts Centre – two of the beneficiaries of Bags for Help – are pictured at the Tesco store in Shudrick Lane celebrating the national success of the scheme which has supported 10,000 organisations across the country.
Tags:
News.