ILMINSTER NEWS: Co-op shoppers support a trio of good causes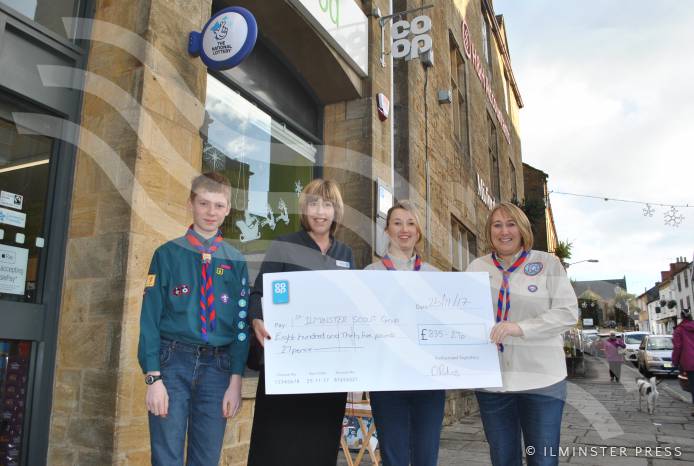 THE Co-op store in Ilminster has handed out more than £2,600 to groups – thanks to its loyal customers.
The money has come from the company's Local Community Fund where one per cent of the total cost of all transactions made by Co-op members at the store is awarded to good causes.
Members of the Ilminster Scouts were on hand recently to be awarded a cheque for £835.27 by store manager Debbie Rodway while the Co-op has also given £876.27 to the Project YP group and £889.54 to the Baby Basics South Somerset organisation.
The Co-op nationally has given out around £20m to groups across the country since September 2016.
Helen Lancaster, of Ilminster Scouts, said the money would come in very useful and thanked the Co-op for its generosity.
Members of the Co-op's Local Community Fund see one per cent of what they spend on selected own-brand products and services go into the fund.
The money raised by all the members in the community, together with money from shopping bag sales, helps to fund local projects in the area where you live.
When you are next in the Co-op store in the Market Square in Ilminster – ask about becoming a member of the Local Community Fund and start helping to raise money for other groups.
PHOTO – TOP: Ilminster Co-op store manager Debbie Rodway (second left) is pictured presenting a cheque for £835.27 to Ilminster Scout Group's Alice Shearman (second right) and Helen Lancaster and young Scout member William.
Tags:
News.