ILMINSTER AREA NEWS: Mindless vandals strike again at Donyatt Halt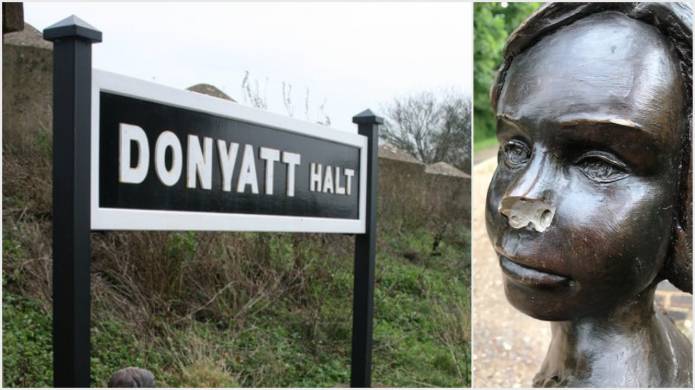 VANDALS have struck again at the old Donyatt Halt railway station on the outskirts of Ilminster which acts as a permanent memorial to the young evacuees who arrived in Somerset during the Second World War.
A wooden statue of Doreen Ash, who was evacuated to Donyatt during the war, which sits on the platform and is a reminder of all those children who arrived in the village to get away from the German bombs, has been badly damaged by culprits hacking her nose off.
It is not the first time that mindless vandals have attacked the Donyatt Halt memorial.
Back in November 2015 they struck at the long-time disused railway station by burning down a wooden shelter which had been built as part of a restoration project to show the station's importance during the Second World War and its association with evacuees.
The problem with Donyatt Halt is that it is in a remote location and will – sadly – always be vulnerable to pointless vandalism.
The restoration of Donyatt Halt was part of a community project between 2005 to 2009 which saw a group of volunteers from Ilminster, Donyatt, Knowle St Giles and Chard work together with district and parish councils to link the communities along the disused railway line with a cycle path.
The original Donyatt Halt was built in 1928 with a single platform faced with wooden sleepers and a small wooden waiting shelter.
In 1940 it became part of the Taunton Stop Line which was built by the Army to contain any German invasion of the South West during the Second World War.
The Stop Line defences were 50 miles long and ran from Burnham-on-Sea on the Bristol Channel to Seaton on the English Channel comprising of a continuous line of anti-tank obstacles with pillboxes and road blocks.
Between Ilminster and Chard it followed the Great Western Railway branch and is a prominent feature of Donyatt Halt with the anti-tank obstacles – large blocks of concrete known as dragon's teeth – still visible thanks to the heritage project, which received National Lottery funding, uncovering them from overgrown vegetation as part of the restoration.
Fundraising had to be carried out following the arson attack at Donyatt Halt in 2015 in order to restore the memorial.
Now organisers must be banging their heads against a brick wall following the latest setback caused by vandals.
Nick Wilson-Chalon said: "The parents of the vandals should know what their children are getting up to with regard to the wanton vandalism which we seem to be getting here at Donyatt."
PHOTO – TOP: The damaged statue of Doreen at Donyatt Halt.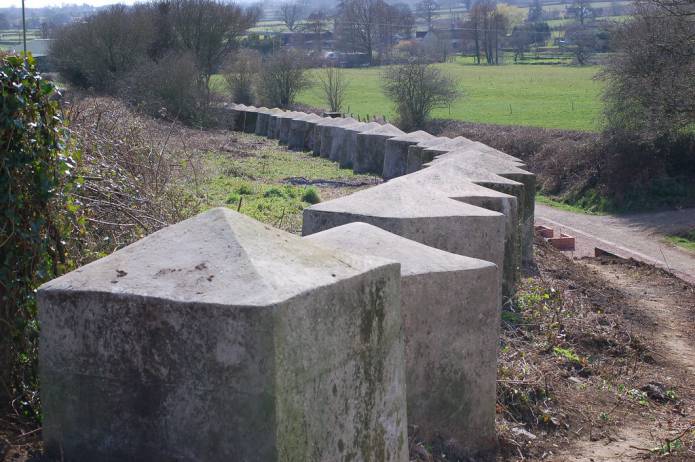 PHOTO – ABOVE: The Dragon's Teeth anti-tank blocks at Donyatt Halt.
Tags:
News.