ILMINSTER NEWS: January edition of Ilminster Press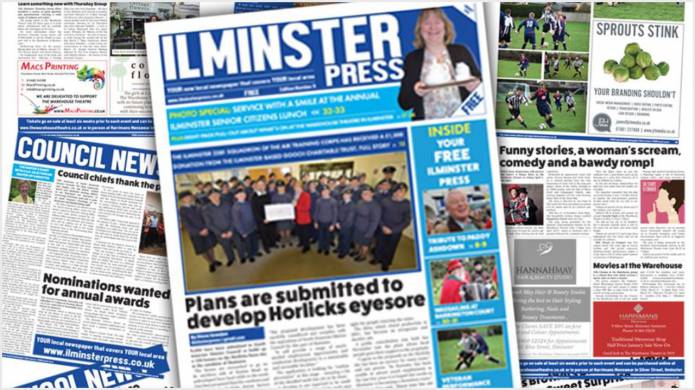 THE January edition of the Ilminster Press FREE monthly community newspaper will be out later today (Thursday, January 24, 2019).
The 40-page paper is packed with news and photos from the Ilminster area and will be available for people to pick-up for FREE from various outlets in and around the town.
Outlets include the main Tesco store in Ilminster, the Co-op store, Cottage Flowers, Ilminster Bookshop, Ilminster Arts Centre, The Stonemasons, Spar Garage, The Minster, Horton Post Office, Monks Yard, Jordans Courtyard, Dillington House, Lopen Raj, Seavington Shop, Shepton Beauchamp Shop and The Trading Post.
It is expected that the paper will be in those outlets by late Thursday (January 24, 2019) afternoon.
Ilminster Press editor Steve Sowden said: "May I once again take this opportunity to thank everyone who has sent me emails and messages congratulating the Ilminster Press team on the work that we are doing with YOUR free monthly newspaper.
"This is edition Number Nine and can't believe that we are already nearing that one-year anniversary.
"We are committed to bringing you a newsworthy, informative and community-minded publication – so please get in touch with your news, events, club photos etc.
"I would like to thank the various outlets who have agreed to take copies of Ilminster Press which can be picked-up for free by people and to James Healey, of JRH Media, for his fantastic help with design and layout.
"Also a huge thank you once again to freelance photographer Christine Jones for all her photos, hard work and support – it really is appreciated."
This edition includes some photo specials of the annual Senior Citizens Lunch at the Shrubbery Hotel and a wassailing ceremony at Barrington Court, plus a special eight-page What's On guide at the Warehouse Theatre in Ilminster.
If you would like to get in touch with the Ilminster Press - please email me at ilminsterpress@gmail.com .
Tags:
News.