ILMINSTER NEWS: This town centre phone box really could save a life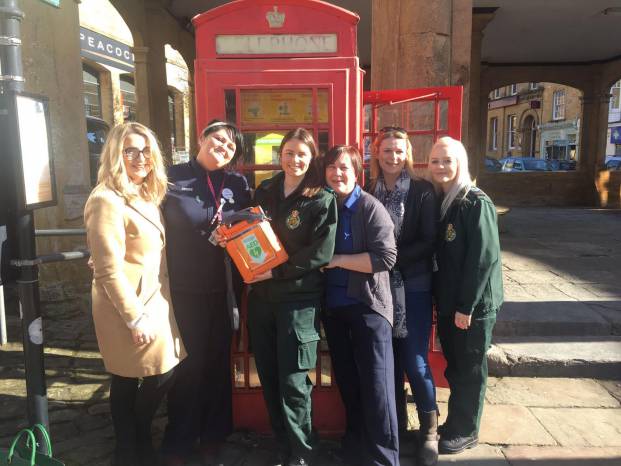 A SECOND potentially life-saving public defibrillator is now available to use and is based in the heart of the town in a former telephone box in the Market Square.
The Ilminster Public Defibrillator Group is delighted to announce that the machine – which can be used on someone in the event of them having a suspected heart attack – is now in place following lengthy delays over planning constraints and legalities.
But the group has stressed that it received great support from Ilminster Town Council and is pleased that the defibrillator is now available.
A group spokesman said: "The defibrillator is housed inside a box with no key code or lock and so can easily and quickly be used 24 hours a day, 365 days a year.
"Simply press the button on the front of the box and a drawer will drop down with the defibrillator inside."
The group ran a training session when the first defibrillator was housed at the Archie Gooch Pavilion in Britten's Field off Canal Way in Ilminster and a second session will be held on Saturday, March 3, 2018, at 10.30am.
This will be a free informal session at the Archie Gooch Pavilion lasting about two hours and offer a demonstration of the defibrillators, CPR training and a question and answer session. No need to book – just turn up.
Further fundraising event will be held over the coming months including an Easter Quiz Night at the Archie Gooch Pavilion on Friday, April 6, 2018, and a cake sale at the town's Tesco store on Friday, April 27.
The spokesman added: "We cannot thank the community of Ilminster enough for their incredible support so far and we hope this will continue."
The Ilminster public defibrillator scheme came about after local nurse Emma Rutter posted a simple question relating to the locations of public defibs on social media in early 2016.
Emma was left concerned when it was found that there were no machines available 24-hours a day and so a small fundraising team got together and quickly raised enough money for two defibrillators.
The machine at the Archie Gooch Pavilion opened in 2016.
PHOTO – TOP: Members of the Ilminster Public Defibrillator Group outside the phone box in the Market Square which now houses a defibrillator machine.
Tags:
News.