ILMINSTER NEWS: Ladies celebrate 100 years of votes for women!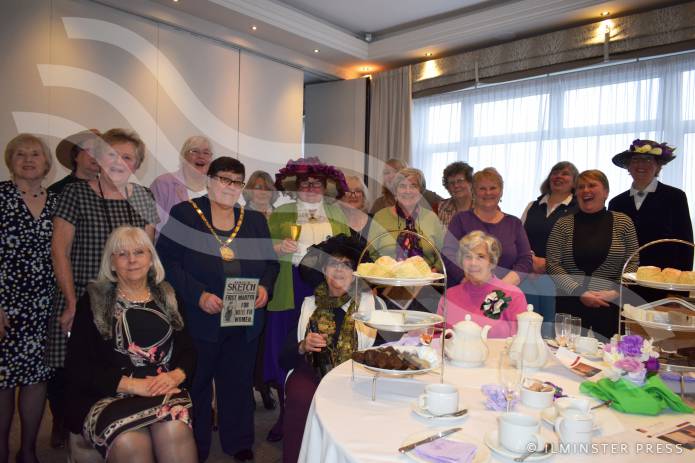 A CREAM tea was held at the Shrubbery Hotel in Ilminster where ladies gathered to commemorate the 100th anniversary of votes for women.
It was back on February 6, 1918, when Parliament passed an act granting the vote to women over the age of 30 – a total of around 8.4-million ladies.
The anniversary cream tea at the Shrubbery Hotel in Station Road on Thursday (February 8, 2018) was organised by district and county councillor, Cll Linda Vijeh, and was attended by friends and colleagues including the Mayor of Ilminster, Cllr Val Keitch, and Deputy Mayor, Cllr Julie Fowler, and former Ilminster Mayor, Margaret Excell.
Ladies enjoyed sandwiches, scones with cream and jam, cups of tea and the all-important champagne to toast 100 years of voting for women.
The guests spoke about the importance of voting and congratulated the work and efforts of the women's suffrage movement in the UK which fought for their right to vote which came to the fore from 1903 onwards with the formation of the Women's Social and Political Union led by Emmeline Pankhurst.
The WSPU immediately ceased at the outbreak of the First World War in 1914, but the women's bid for voting grew stronger during the war years with them taking on the men's work while their husbands and sons were away fighting.
It was just ten days after the Armistice on November 21, 1918, when another act was passed allowing women to be elected into Parliament as MPs, although it was not until 1928 when women received the same terms as men over the age of 21 to be eligible to vote.
The first female MP to be given a seat in the Government's Cabinet was Margaret Bondfield, who came from Chard, in 1929 when she was appointed Secretary of State for Labour and has only recently been named as one of the nation's great suffrage heroes in a scheme run by the Women's Local Government Society.
A competition was held at last week's cream tea held at the Shrubbery for the lady wearing the most impressive hat and that was won by Stephanie White of Combe St Nicholas.
A few men were present at the event at the request of Cllr Vijeh as she pointed out that if it was not for them passing the necessary Acts of Parliament a century ago then women would still not have the vote.
PHOTO – TOP: Ladies gather at the Shrubbery Hotel for the cream tea event to commemorate 100 years of votes for women. Photo: Christine Jones.
Tags:
News.