ILMINSTER NEWS: The Orchids is a perfect fit with Hazelwell Lodge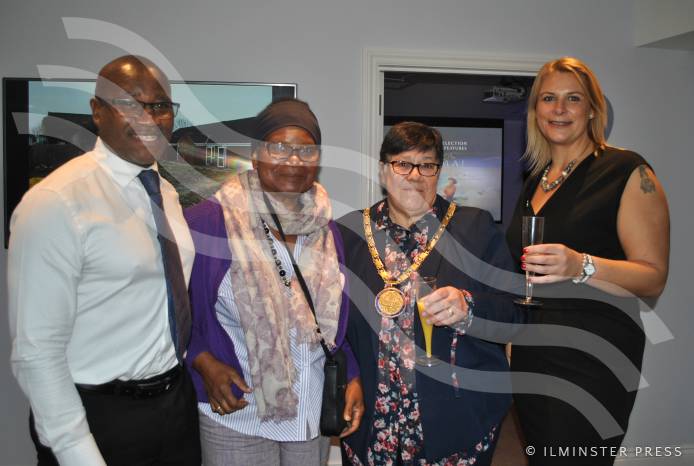 AN AMAZING new unit for residents has been officially opened at the Hazewell Lodge nursing home in Ilminster by the Mayor.
Cllr Val Keitch was on hand to cut the ribbon to declare the new facilities, entitled The Orchids, open at the home in Station Road.
This exciting project has been three years in the designing, planning and building and now that it is up and running it has been given a civic seal of approval by the Mayor.
"It's a wonderful building and it is fantastic for Ilminster to have somewhere like Hazelwell Lodge," said Cllr Keitch who joked that she might put her name down on the "waiting list" to move in.
The Orchids is a spacious open plan unit which has appealing curved walls from which bedrooms with colourful personalised doors, open out onto a comfy lounge and dining area.
The bedrooms, all of which feature private ensuite wet rooms and smart TVs which offer multiple viewing options, also have doors which open on to a patio area, which offers additional outdoor seating for our residents and their guests.
The open lounge has large windows and beautifully designed skylight and with no internal walls or corridors provides a sense of spaciousness and light which enhances the living area where our residents spend their daytime hours.
The Orchids incorporates a dedicated theme room which has sensory lighting designed to create a stimulating or a relaxing environment for our residents. The room can also be made into a movie theatre with a big screen and projector to give our residents the feeling of a cinema experience.
Invited guests, staff, residents and those involved with the building of The Orchids were invited to the opening ceremony last month.
Hazelwell director Chris Ochoa thanked everyone for their ongoing help and support of the nursing home which specialises in looking after those people with dementia.
One special person at the opening was Mr Ochoa's mother, Edna Maxwin, who bought Hazelwell in 1987 and started to turn it into the home it is today with the aim of changing people's perception of care home and how people view their later years.
"My mum turned it around and got the reputation of Hazelwell up," said Mr Ochoa. "What we see now with The Orchids was started with my mum when she first bought Hazelwell Lodge 30 years ago."
Mr Ochoa praised Hazelwell manager Claire Kingdon for her amazing work and support.
Claire is chairman of the Ilminster Dementia Action Alliance and works closely with Sally Lowe, of Milford & Dormer, to promote the Alzheimer's Society dementia friendly communities initiative.
PHOTO – TOP: The Mayor of Ilminster, Cllr Val Keitch (second right), with (from left) Hazelwell Lodge director Chris Ochoa, his mum Edna Maxwin who bought Hazelwell back in 1987 and the home manager Claire Kingdon.
Tags:
News.