ILMINSTER NEWS: Second edition of Ilminster Press free newspaper – out now!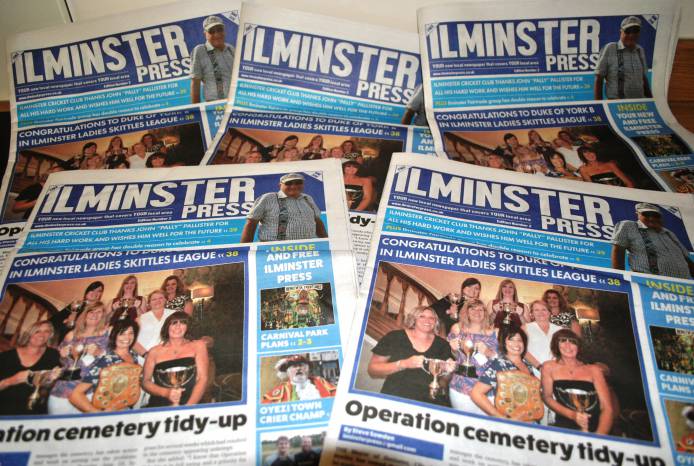 THE second edition of the new Ilminster Press newspaper is now available to be picked-up for free from outlets in and around the town.
The monthly publication has once again been well-supported by local groups and businesses with advertising and is packed with news and photos from Ilminster and the immediate surrounding area.
Steve Sowden, of Ilminster Press, said: "I received many favourable comments about the first edition of Ilminster Press when it came out last month and I'm delighted that that enthusiasm has meant that edition number two is now available."
The 40-page publication is currently available in the main Ilminster Tesco store, McColls and Co-op stores in the Market Square, the Spar Garages in Ilminster and South Petherton, the Shrubbery Hotel, Ilminster Arts Centre, and the Lopen Raj restaurant and Trading Post Farm Shop at Lopenhead.
Other outlets will be added to that list in the next few days.
Included in this edition of the monthly newspaper are features on the recent Ilminster Literary Festival and Ilminster Midsummer Experience, a Down Memory Lane lookback at old photos from Ilminster, and a four-page annual report for 2017-18 from Ilminster Town Council.
There are also sections on council news, school news, around the area and sport.
There is also a special photo feature on the annual presentation night of the Ilminster and District Ladies Skittles League, while Ilminster Cricket Club throws a surprise farewell party to stalwart John "Pally" Pallister and there is the latest news on the planned South Somerset Carnival Park.
If any business in the Ilminster area would like to advertise in the July edition of Ilminster Press – please email ilminsterpress@gmail.com or phone 0777-3198-081 for more information.
NOTE: Ilminster Press the paper is published once a month.
Tags:
News.