ILMINSTER NEWS: Festive lights will come up smelling of roses once again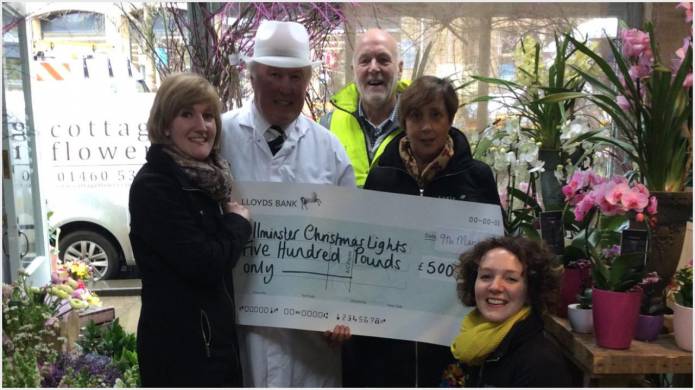 ILMINSTER Christmas Lights will be blooming great once again this year - thanks to the help of a local florist.
Staff at Cottage Flowers in East Street raised £500 for the lights from a Christmas demonstration held at the Warehouse Theatre in November 2017.
And on Friday (March 9, 2018) the cheque was handed over by proprietor Angie Blackwell to lights committee chairman Clinton Bonner and treasurer Ian Anderton.
"We thank the people of Ilminster and villages around for their amazing support once again," said Angie. "It was a wonderful morning with beautiful designs created by the Cottage Flowers team who inspired everyone to get creative for Christmas."
Mr Bonner said it was another marvellous from the Cottage Flowers team who support the lights committee every year.
"We cannot thank Angie and her team enough for this wonderful effort," said Clinton.
Cottage Flowers staff will be helping another local group later this month with a special Easter demonstration in aid of the Warehouse Theatre.
It will be held at the theatre in Brewery Lane on Tuesday, March 27, 2018, from 10am to 1pm and tickets can be booked by calling Cottage Flowers on 01460-53020. Tickets cost £10 to include refreshments and there will be a sales table and raffle.
PHOTO – TOP: Pictured are Holly Harris, Angie Blackwell and Jaclyn Arscott of Cottage Flowers with Clinton Bonner and Ian Anderton of the Ilminster Christmas Lights Committee.
Tags:
News.